We joined a "Pie Ride" Free Group Ride to test our rain gear, and to support Cascade volunteer Sundar Rajan on his journey to become a Cascade Ride Leader. 

Becoming a Free Group Rides Ride Leader is a great way to stay fit and motivated–and share your love of bicycling.
Image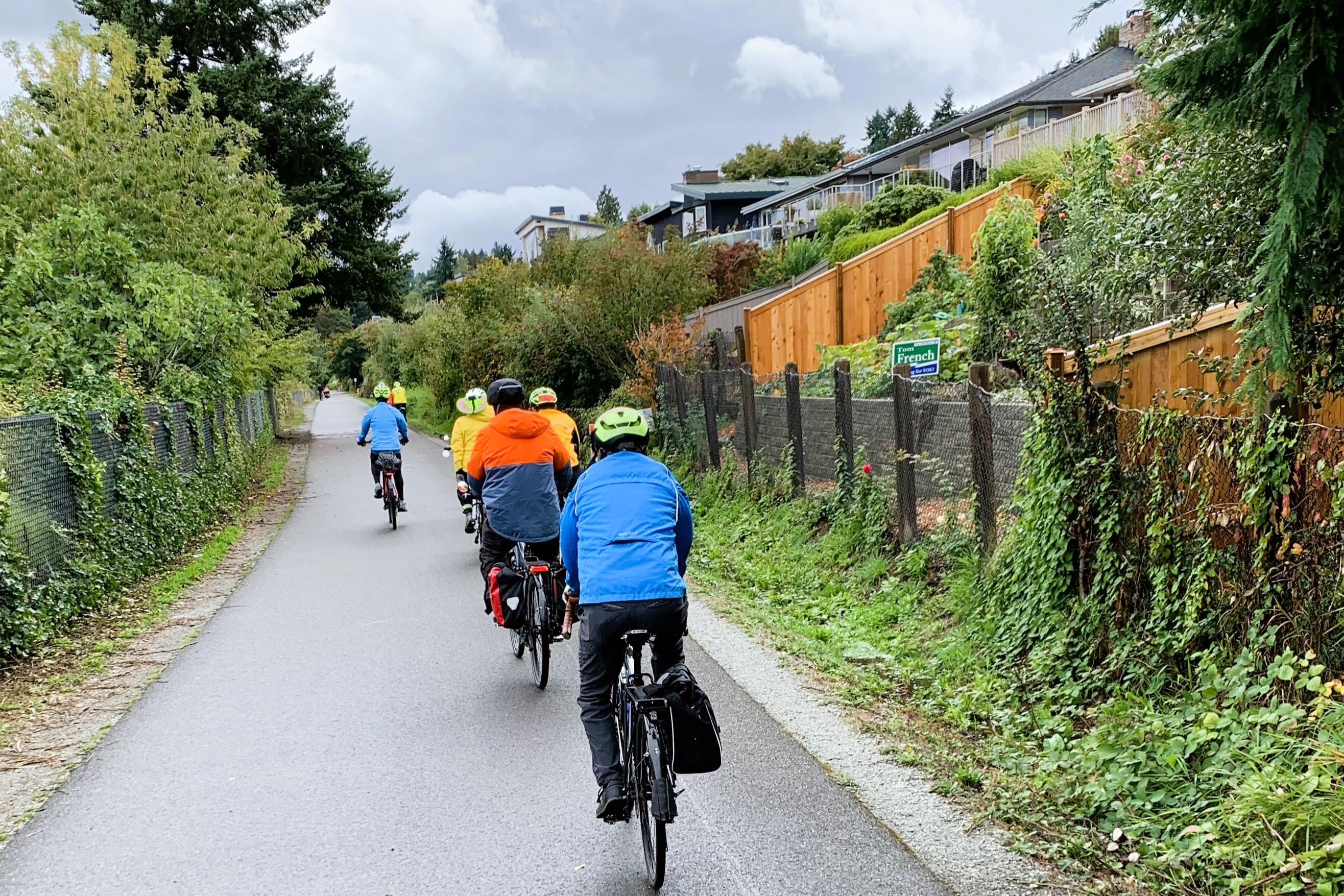 Cascade's Free Group Rides are the perfect way to stay motivated–and find some riding buddies–during the foul-weather months. That's why I signed up for a recent "Pie Ride" on the Free Group Rides page. 
The Pie Ride is a popular and longtime Free Group Rides offering because it's a short time commitment at 18 miles, it occurs nearly every Wednesday, and it's almost entirely on the Burke-Gilman Trail. Most importantly, there's pie for sale at the halfway point.
It was drizzling when I left the house, but the rain stopped by the time I arrived at the starting location–Seattle's Matthews Beach Park. 
Ride Leader Jeff Almgren (below, orange jacket) typically leads the Pie Ride, but today Cascade volunteer Sundar Rajan was co-leading as one of the final steps to becoming a Cascade Ride Leader.
Image
Image
Sundar (above left) has become an avid bike rider and prolific Cascade volunteer since retiring and moving to Seattle. He greeted the 10 ride participants, gave the Ride SMART safety briefing, and then led us out of the park and onto the Burke-Gilman Trail, headed toward Bothell. 
Despite wet conditions, it was a mild and colorful fall day on the Burke-Gilman.
Image
Free Group Rides are great social occasions. I chatted with Cascade Ride Leader Peter Breyfogle about his efforts to get the Seattle Parks and Recreation Department to fix rough sections of the Burke-Gilman. Visit the Fix the Burke-Gilman page on Facebook to support this effort.
Reaching Bothell, we pedaled a short distance to the North Shore Senior Center, which sells slices of pie for $3 on Wednesdays.
Great news awaited us at the senior center: the pie was free today thanks to a donation from a local business. It was a pie in the sky moment. 
Image
Despite being free, this was no humble pie. I got the berry rhubarb. Extra whipped cream please. 
Image
Pie-faced and refreshed, we headed back to the Burke-Gilman Trail and pedaled to the finish back at Matthews Beach Park.
Image
The Pie Ride shows the diversity of rides available in our Free Group Rides program, which offers rides year-round. 
Become a Free Group Rides Leader
Like Sundar, I'm in the process of obtaining my Ride Leader Certification. Why? Once certified, you can create and post rides on our Free Group Rides Calendar. 
Sundar told me he wants to create themed rides to unique locations or points of interest that enable people to learn more about the Seattle region's diversity. 
Image
"Free Group Rides are often the first way many people meet and become familiar with Cascade," says Rides Program Manager Davíd Urbina. "For many people, it's also their first experience riding in a group. For those reasons and more, we want as many ride leaders as possible offering rides at different paces to and from different locations throughout the state."
Cascade needs more Ride Leaders who want to create slow-paced rides for people new to bicycling. We are also seeking more Ride Leaders to create fast rides for individuals training for STP or RSVP, as well as rides for people on e-bikes. 
Do you wish Cascade offered more 10 mph rides? Or more rides in Spokane or Tacoma or the South Sound? Become a Ride Leader and you can create these rides yourself.
"The sky's the limit in terms of creating rides," Urbina says. "Whether it's a policy ride highlighting new bike infrastructure, a cultural history ride like Bob Svercl's Seattle Queer History Tour, or a training ride to prepare for STP and longer Cascade rides, we are eager to diversify our Free Group Rides offerings."
Becoming a Ride Leader is as easy as pie. You must: 
participate in five Free Group Rides;

join a virtual Ride Leader Training session (offered once per month, the next one is on Nov. 21);

do two mentored rides with a current Ride Leader (this is what Sundar was doing during the Pie Ride);

and submit a sample ride posting.
Check out our Free Group Rides Calendar for opportunities to get outside, make some new friends, and pedal through Ride in the Rain Month all of November.
Maybe you'll be inspired, like Sundar and me, to become a Cascade Ride Leader. 
Image