Cascade's Major Taylor Project coordinator in Tacoma has been popping wheelies and racing BMX bikes since childhood. Now he is passing on his passion for bicycling to a new generation--with the help of a local businessman who has enlisted family, friends, and employees to support Tacoma MTP.
Image
Josh Stowell, the Tacoma coordinator for Cascade's Major Taylor Project, knows personally how a bicycle can transform a youth's life. He discovered BMX riding as a boy, raced through his teens, won sponsorships and eventually competed in the BMX World Championships at age 17. As a young adult he discovered long-distance bike touring and rode from Canada to Mexico, a trip that expanded his horizons and introduced him to new people, new places and experiences.
"Bikes have shaped who I am," says Stowell, pictured above in his BMX racing days. 
On March 22, Stowell will resume his work passing on that love of bikes to another generation of youths when the MTP spring bike clubs resume in Tacoma and Seattle.
"Josh is such a good dude, but he is way more than that," says Alec Lewis, the local district manager for Farmers Insurance. Lewis has gotten to know Stowell while volunteering for the Tacoma MTP bike clubs. 
"He is so patient and encouraging," Lewis says in praise of Stowell. "There were some kids who couldn't make it up a hill when they first started, and Josh would get off his bike and walk up the hill with them and encourage them so they wouldn't feel embarrassed. He really cares about these kids."
Image
Lewis grabs a selfie while helping to lead a Tacoma MTP ride. 
The feeling is mutual. Stowell applauds Lewis and the local Farmers Insurance Group for regularly showing up to help with Tacoma MTP bike clubs last fall, offering financial support and their time helping Stowell lead rides. Lewis and his business associates got involved with MTP last year. "We love working with the kids, and we want them to know that there are people in the community who care about them." 
Lewis's son, Alec, Jr., a high school senior, and his classmate Xavier Hayward, also volunteered at MTP sessions in Tacoma last fall. "My son said it was one of the funnest things he has ever done," Lewis says. 
In fact, Alec, Jr., had so much fun volunteering that he is returning as a paid MTP ride leader this spring. 
Lewis, who has fallen in love with bicycling since buying a bike four years ago, has also recruited more than a dozen insurance agents to participate in the Ride for Major Taylor fundraising ride in June. He wants to make participating in Tacoma MTP sessions with Stowell an ongoing tradition for his family, and his business. "It's important for businesses to show up for their community, not just write checks but actually get involved," Lewis says. 
Stowell is grateful for the help. He took a job with Cascade in 2019 after working for many years as a welder and metalworker. One of Stowell's most memorable projects was welding props for the movie "Prospect" that was filmed in Washington. "The coolest thing was making the spaceship that you see at the end of the movie, a sphere on legs that you see blasting off." 
Image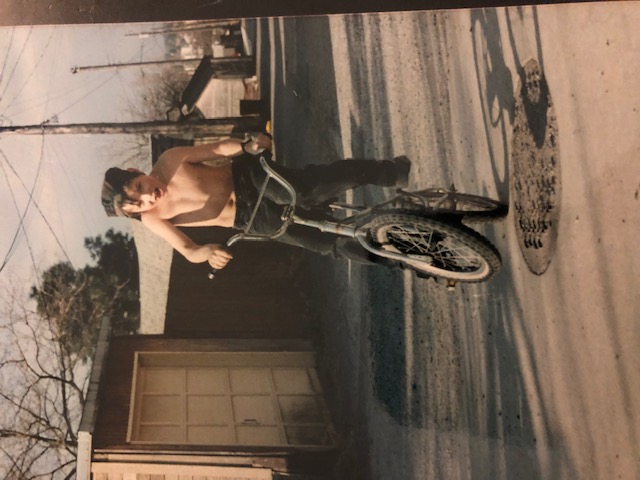 Displaying excellent wheelie popper form as a boy!
Stowell learned how to weld bike frames along the way, and he has since built more than 100 bikes. "I built all the bikes that I ride aside from my carbon fiber mountain bike," he says. He has also welded a handful of BMX bikes that he has given away to youths who couldn't afford to buy their own.
Working with MTP students has opened Stowell's eyes to the economic challenges many families face. "Some of my students would show up in the winter without jackets, and I learned it's because they don't have one. Last year we had a student tell us that her family didn't celebrate Christmas because they can't afford it."
To help these youths and their families, Stowell and his partner, Anna Yusko, have sponsored fundraising drives the past several years during the holiday season. Last Christmas, they raised $1,400 that was used to buy food and gas gift cards for the families of 11 MTP students. "Working with the MTP students has allowed me to see what they need, and how I can help."
Coordinating MTP bike clubs during COVID-19 has been challenging but rewarding. After a hiatus for much of 2020, MTP resumed last fall with limited class sizes. As schools look to begin reopening part-time in 2021, and as the state loosens restrictions on gatherings, Cascade is hopeful that the Major Taylor Project will be able to serve more youths this year. Stowell is looking forward to engaging with more youths. "I don't like being disconnected from my students," Stowell says. It's probably safe to say his students feel the same way.
Image