The Palouse to Cascades State Park Trail, Wild Horse Wind Farm, Renslow Trestle, and Yakima River Canyon: these are among the highlights of bicycling in central Washington. 

We visited these sites during the Ellensburg Tour Lite, which shined a spotlight on the scenic beauty, fertile farmlands, juicy fruits, low-traffic roads, gravel trails, and ponies, of the Ellensburg and Cle Elum region.
Image
The Wild Horse Wind and Solar Facility is located 16 miles east of Ellensburg atop Whiskey Dick Mountain, a windy protuberance with panoramic views of Central Washington's shrub steppe habitat. 
This was the lunch stop for Day One of the inaugural Ellensburg Tour Lite, a three-day tour of the big landscapes, river canyons, and trails of the Ellensburg region--the geographic center of Washington state. 
Image
The wind farm's 149 300-foot tall turbines juxtaposed against the blue and windy skies offered a hopeful glimpse of our clean energy future.
Riders also enjoyed wide-open country roads through farmlands and pastures with horses and cattle.
Image
Image
Image
Day Two brought riders along back roads from Ellensburg to Cle Elum, with a rest stop for peaches at a fruit stand in Thorp.
Image
Pedaling up the Yakima River Canyon on Day Three was another highlight. Therese gave it a thumbs up!
Image
Image
Each day began in Ellensburg's Rotary Park, where riders loaded up with water and snacks and studied the route maps. 
Image
Tour Lites organizer RJ Conn spent many hours driving each route in advance to mark turns with neon "Dan Henry" markings.
Image
Volunteers were instrumental in setting up the lunch and rest stops, driving support vehicles, and ensuring everyone had a great time. Volunteering for a Tour Lite is a great way to explore Washington state. And you get a T-shirt! Learn more about Cascade volunteer opportunities.
Image
Anita Elder, our 2023 Volunteer of the Year, helped scout many of the routes and took photos of riders when not driving her support vehicle.
Image
Participants who brought gravel bikes had the option to ride over the Renslow Trestle, a bike bridge that spans Interstate 90, and to explore long stretches of the Palouse to Cascades State Park Trail.
Image
Image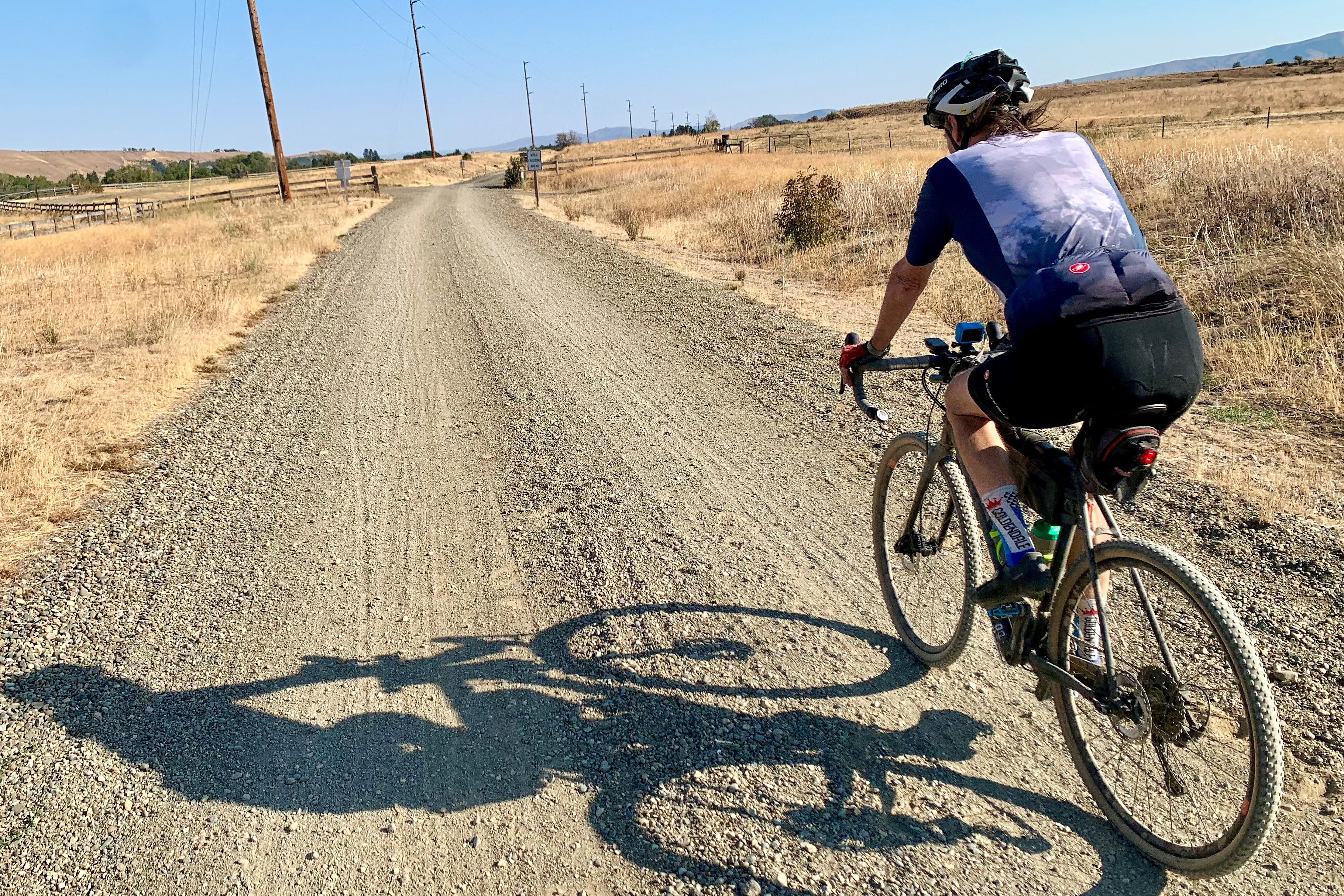 The 25-mile stretch of Palouse to Cascades trail between Cle Elum and Ellensburg includes two tunnels. Don't forget your lights!
Image
Image
Participants used all types of bikes: road, gravel, and electric. 
Image
Image
Image
Image
The couple above rode Bulls e-bikes. Sid, below in front, rode a Diamondback e-bike and led a paceline for riders to draft. No wonder he was smiling the whole time.
Image
Image
I rode my Priority 600X, which tamed loose sections of the Palouse to Cascades trail. For riders considering the Palouse to Cascades, the section between Cle Elum and Ellensburg had firm packed lines most of the way. The section between Renslow Trestle and Ellensburg had lots of loose gravel. Wide tires advised. 
We spotted this local girl walking her pony on the Palouse to Cascades trail.
Image
Thanks to everyone who joined us on the first Ellensburg Tour Lite. Many participants were surprised by the beauty of the Ellensburg region, and by the college town's charming brick downtown of restaurants and bars. We shall return.
Image
There is still time to register for the Walla Walla Tour Lite from Sept. 29 to Oct. 1. If you missed out on our 2023 Tour Lites, check back this winter when we announce our 2024 schedule.
Meantime, view photos and read trip reports from some of our previous Tour Lites including Long Beach, Winthrop Gravel, and Walla Walla. The open road awaits.
Image