The Pedaling Relief Project shows the power of bicycles to help food banks, deliver essential goods, reduce carbon emissions, curb food waste, promote volunteerism, and spread the joy of bicycling.

We joined a dozen riders for a recent Sunday morning food rescue in Ballard and Fremont to collect and transport fresh produce, bread, milk, sandwiches, and more to a Food Not Bombs food bank in SODO. 

The Cascade initiative has transported more than 956,000 pounds of food and goods by bike to date--with one million pounds expected in coming months.
Image
On a recent sunny Sunday morning, Maxwell Burton met up with a handful of volunteers at the University District Food Bank to gather supplies for a Pedaling Relief Project food rescue and delivery. 
After hitching Burley trailers loaded with empty food bins, ice, and coolers to our bikes, we set out by bike toward the PCC Community Markets in the Ballard and Fremont neighborhoods of Seattle where we would load up with food that would otherwise go to waste.
Burton, who co-founded and manages the Pedaling Relief Project and the volunteer program for Cascade, pedaled a new Swoop electric cargo bike recently donated by Xtracycle, while the volunteers rode an assortment of non-electric bikes. By attaching a trailer, any bicycle can become a cargo bike–and anyone with a few hours to spare can become a Pedaling Relief Project volunteer.
Image
Maxwell Burton co-founded the Pedaling Relief Project in 2020.
Begun in 2020, the Pedaling Relief Project is about to pass a milestone in the next few months: one million pounds of food and essential goods delivered by bicycle. As of this writing, the initiative and its hundreds of volunteers had pedaled more than 20,000 miles and delivered more than 956,000 pounds of food and goods.
The Pedaling Relief Project, a Cascade Bicycle Club initiative, shows the power of bicycles and volunteer riders to help overburdened food banks while also taking cars off the road, reducing carbon emissions, curbing food waste, and promoting the joy of bicycling. Cascade's efforts to help food banks and people grappling with food insecurity come at a crucial time, as federal food stamp benefits implemented during the pandemic expire and food prices rise.
"Food banks throughout the greater Seattle area and across the country have seen swelling demand, as people, including working families and those on fixed incomes, seek help to stock their fridges and pantries," according to the Seattle Times.
A Sunny Sunday Ride with Purpose
Our group grew to about a dozen participants when we reached the PCC Community Market in Ballard, where a store worker wheeled out shopping carts loaded with food that the volunteers carefully placed in bins on their trailers. High value items like milk cartons and eggs were placed in coolers with ice to keep them fresh, while fruit and vegetables were prioritized along with pre-made sandwiches and meals. Bread, bagels, and pastries were loaded into saddle bags wherever space remained.
Image
Pulling the loaded trailers, we pedaled to the Fremont PCC Community Market to gather more food before heading toward South Seattle. Our destination was a Food Not Bombs pop-up food bank in the SODO neighborhood. Our group of a dozen riders crossed over the Fremont Bridge, connected with the Westlake bike path and wound its way through downtown on bike lanes until we reached the Alaskan Way bike route that led us to SODO and our destination. 
Food Not Bombs had set up a tent and tables in an industrial parking lot, where we unloaded our bounty for community members to come shop for free. It feels powerful and rewarding to save food destined for a compost facility or landfill and deliver it to members of our community who need it–all by bike while getting exercise and making new friends.
Image
"I love it because you feel like you're riding with a purpose," said volunteer rider Kathy Zheng. "It's really awesome." 
By partnering with seven food banks and multiple community gardens, Cascade Bicycle Club's Pedaling Relief Project has quietly become a force in combating food insecurity in Seattle. Hundreds of volunteers have pedaled more than 20,000 miles while benefiting thousands of households in Seattle since the program's inception. 
Image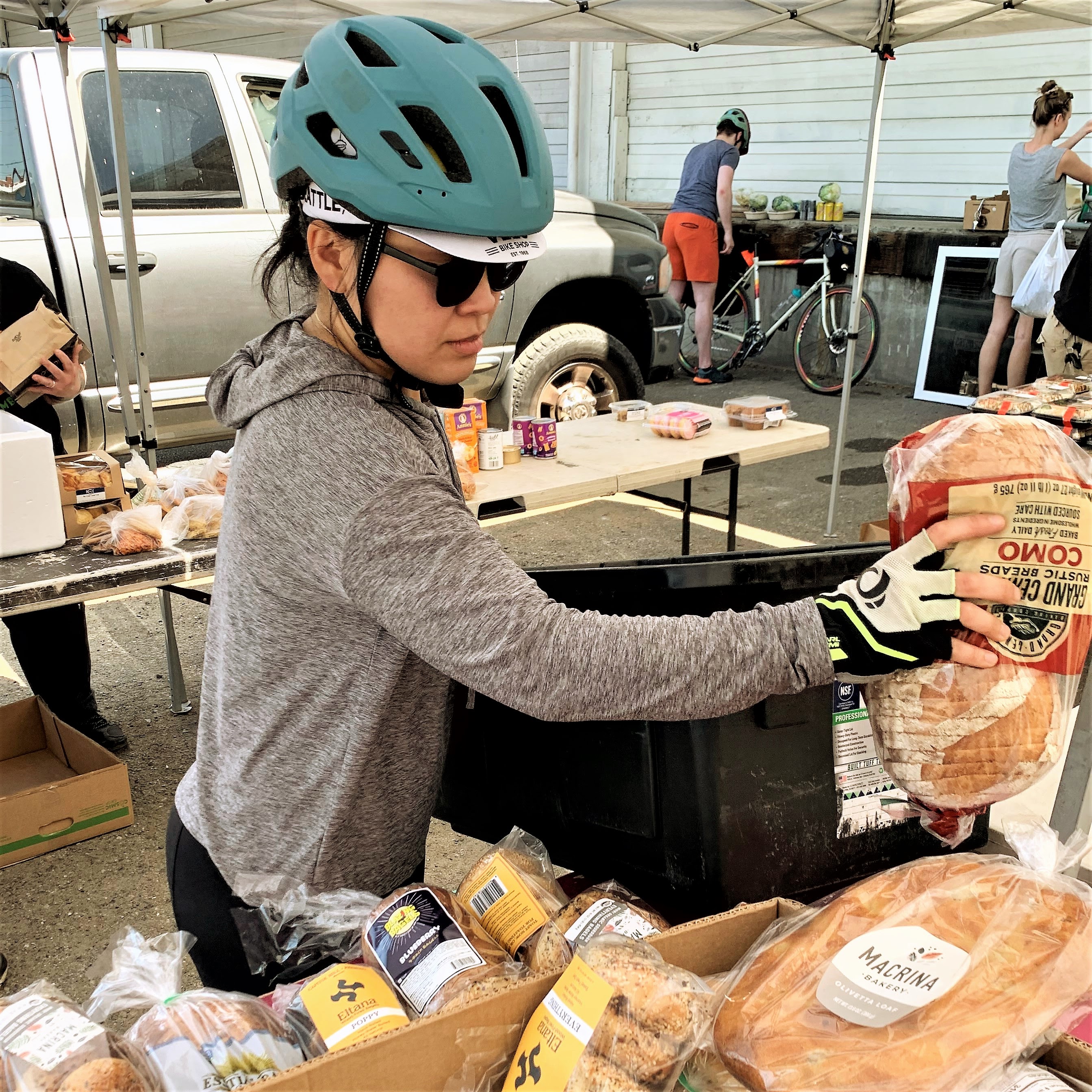 Unloading bread at Food Not Bombs.
Volunteer riders include everyone from university students to retirees who enjoy the experience of a group bike ride that brings them to neighborhoods they previously may not have explored.
The benefits are multiple. By replacing motor vehicles and vans with bicycles and electric bikes, the program has prevented more than 18,000 pounds of carbon emissions from polluting the atmosphere. The Pedaling Relief Project also mitigates traffic congestion, improves air quality, and fosters a greener and healthier environment.
Additionally, the project serves as a catalyst for community engagement with food banks in need of volunteers while creating opportunities for people to ride their bikes while helping their neighbors in need of food.
Despite its many successes, the program needs more funders and sponsors to keep it sustainable for the years to come. Burton says the Pedaling Relief Project serves as a model for other bike clubs and community nonprofits everywhere. 
Image
"By harnessing the potential of bicycles and tapping into the enthusiasm of the bicycling community, we hope to not only fight food insecurity here in Seattle but also inspire communities nationwide to initiate similar food rescues and deliveries that can make a positive impact on society," says Burton, Pedaling Relief Project & Volunteer Community Engagement Project Manager. 
"Our goal is to expand to more communities, and we are actively seeking national partners and donors to help scale up the Pedaling Relief Project. Our dream would be to help community nonprofits and bike clubs across the country use our blueprint to establish their own Pedaling Relief Projects," Burton says. 
An example of a food rescue started by a bike club is the Sushi Rescue Ride on Thursdays that is supported and run by volunteer riders affiliated with the Ampersand Bike Club in Seattle. 
"We provide the platform for volunteers to sign up on our website, plus we supply the trailers and supplies, and they run it," Burton says. "We have a toolkit to help other organizations start food rescue rides, and we would love to talk with other affinity bike clubs, community organizations, and food banks."
Image
After dropping off our food with Food Not Bombs, we pedaled away to resume our Sunday afternoons feeling good that we had ridden with purpose while also getting some exercise and fresh air. 
Cascade Bicycle Club extends heartfelt gratitude to the dedicated volunteers, community partners, and generous supporters who have propelled the success of the Pedaling Relief Project. Learn more and sign up for a volunteer ride on the Pedaling Relief Project page. Cascade offers delivery and rescue rides every Wednesday through Sunday. 
Contact Connie Stark about corporate partnership opportunities, and donate today at cascade.org/donate.
Watch our Youtube video "A Day in the Life of Pedaling Relief Project" to see highlights of the Food Not Bombs ride.
Image
Image
Image