Bicycling is an affordable and healthy method for shrinking transportation's huge carbon footprint, but the bike industry and cycling community have yet to flex their biggest muscles in the effort to solve the climate crisis: organizing and demanding action by governments at all levels.
Riding a bike instead of driving is one of the most affordable and societally beneficial ways to help solve the climate crisis. At the same time, climate change is threatening the healthy and joyous activity of bicycling by increasing the frequency of dangerous heat waves, extreme weather events, and larger, longer-lasting wildfires that choke the air with smoke. 
Despite the threat that climate change poses to bicycling, the bike industry and the growing number of people who ride bikes have yet to flex their powerful muscles in the race for climate action. About 48 million Americans ride bikes, according to the Outdoor Foundation's 2020 Outdoor Participation Report. The bike industry has an economic impact of more than $81 billion domestically and creates hundreds of thousands of jobs.
By acting collectively, and leveraging its economic influence with elected officials, the bicycling community could become a more powerful force in pushing government officials at all levels to address climate change. This topic will be the subject of a panel discussion, "Organizing Bicyclists for Climate Action," during the 2021 Washington Bike, Walk, Roll Summit, which begins next Monday and runs through Friday (Sept. 27 to Oct. 1).
Image
Not a great day for riding. Photo courtesy of Chris Hemminger.  
With 15 sessions covering everything from the Open Streets movement to improving mobility for people with disabilities, the virtual Bike, Walk, Roll Summit is free (with a suggested donation) and open to anyone who wants to learn about and help enact change that makes Washington communities safer and more equitable for people bicycling, walking, rolling, or using mass transit. 
The climate session will be on Thursday, Sept. 30, from 8:30 to 9:30 a.m. and will include a panel of academics and nonprofit activists working on the front lines of climate action. Presenters will include:
Eric Fine of the Yale Program on Climate Change Communications, one of the leading research institutions studying Americans' attitudes and opinions about climate change;
Elaine Salinger of the Citizens' Climate Lobby, a national nonprofit that is rallying grassroots support for putting a price on carbon;
Paulo Nunes-Ueno of Front and Centered, who will preview climate justice initiatives for the upcoming Washington legislative session in Olympia.
Washingtonians Support Action on Climate
Fine has been called "climate whisperer to the outdoor industry" due to his work with organizations including Protect Our Winters, the American Alpine Club, and the National Audubon Society to help them create climate messages that resonate with their communities. 
Fine will discuss Yale's research showing that a majority of Americans, 72 percent, believe global warming is real. Due to powerful fossil fuel lobbyists and messaging, people often believe this number is lower, which can lead to a "spiral of silence" that prevents them from talking about climate change. 
Image
Fine will zoom in on Washington residents' views on climate change. Image courtesy of Yale Program on Climate Change Communications. 
Using Yale's interactive Climate Opinion Maps, Fine will discuss Washingtonians' attitudes about the climate crisis (Lewis County has the lowest percentage of residents believing global warming is real at 64 percent, King County has the highest percentage at 83 percent) and provide insights for activists to create effective talking points and messages.
Carbon Pricing and Climate Justice
Salinger will discuss the Citizens' Climate Lobby's efforts to rally support for efforts to put a price on carbon, a step widely seen as one of the most powerful tools for rapidly reducing greenhouse gas emissions. The organization supports the Energy Innovation and Carbon Dividend Act, which would charge a fee to carbon polluters and return the revenue generated directly to all American citizens to offset the rise in energy prices. 
Image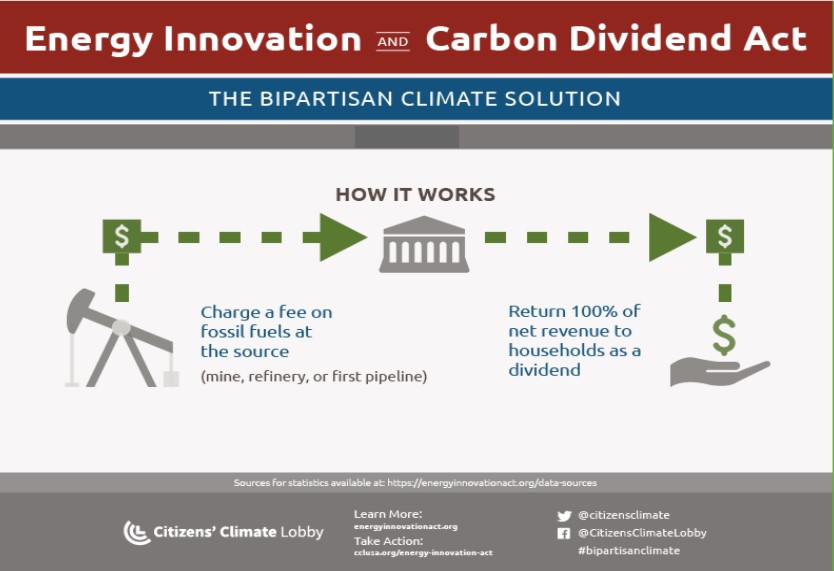 Image courtesy of Citizens' Climate Lobby.
Nunes-Ueno of Front and Centered, whose goal is to "accelerate a just transition toward climate and environmental justice," will discuss efforts to push for greater investments in bicycling and pedestrian infrastructure, mass transit, and active mobility in Washington's massive transportation funding bill. Nunes Ueno will also provide initial details on several new initiatives that have yet to be announced related to climate justice and mobility rights that could make newspaper headlines in coming weeks.
Sign the Bike Industry's Climate Pledge
Beyond this summit panel, Cascade is ramping up its Climate Justice initiatives. Cascade has signed onto the Biking Industry's Climate Declaration, joining our corporate partner Alta Cycling, based in Kent, Wash., and many other bike shops, bike brands, and bicycling advocacy organizations nationwide. Cascade encourages all bike shops and cycling related businesses and bike advocacy groups in Washington to sign the declaration as well.
The bike industry and bicycling community can learn from the efforts of the outdoor and snowsports communities, which have worked hard to rally grassroots and corporate support for climate action at the federal, state, and local level. The bike industry, meantime, has barely begun to consider environmental sustainability.
"Riding a bike instead of driving is a badge of citizenship. It says you're health-minded and community minded, that you think about the collective good," says Auden Schendler, chairman of the board of the climate action nonprofit Protect Our Winters. "But you should also see yourself as part of a potentially powerful community that could move public policy. So ride more and encourage other people to ride bikes as well. But also write, speak, convince, run for office, let your Senator know that you want Congress to enact strong climate provisions."
Learn more about the Summit agenda and register here. 
Image
Photo courtesy of Seattle PI.