We visited Bike Works in Columbia City to learn more about their youth bicycling and mentorship programs, and peek inside their warehouse and headquarters where workers salvage and refurbish thousands of bicycles annually. 
Image
Friends and supporters of Bike Works and Cascade Bicycle Club are encouraged to join us on Nov. 20, 2021, for an 11-mile, no-drop, South Seattle ride to celebrate the birthday of Marshall "Major" Taylor--one of the greatest bike racers of all time.
"The Major Taylor Birthday Ride celebrates the life and accomplishments of Marshal 'Major' Taylor, the first African American to achieve the level of cycling world champion and the second Black athlete to win a world championship in any sport," says Ed Ewing, Bike Works' executive director and the co-founder of Cascade's Major Taylor Project. "Major Taylor's story is still relevant today. The racism and bias he endured serves as a reminder for us all to keep pedaling towards racial equity in every aspect of our work and in our lives."
A Peak Inside Bike Works
To preview a portion of the ride and learn more about Bike Works' programming and mission, we visited their shop and headquarters in Columbia City. Our tour guide was Aaron Yoon, Bike Works stewardship manager, who met me at the bike shop at 3709 South Ferdinand Street.
Image
The Bike Works bike shop is where consumers can get a tuneup, buy a refurbished bike, get bike parts and accessories, or buy a styling Bike Works branded hoodie. Inside, Kellen Rack, the shop director, was fixing a bike on a mechanic stand. Proceeds from the shop support Bike Works' programs, and the shop enables youth and young adults in Bike Works' programs to obtain professional experience while supporting their community. 
Image
Kellen Rack gets it done in the shop.
After the shop tour, Yoon took me for a spin on some Neighborhood Greenway streets that will be part of the Major Taylor Birthday Ride. Yoon started working at Bike Works in March following a career in social social services. "It's been great living and working in Columbia City," he says.
Yoon fell in love with bicycling in 2017 when he began daily bike commuting. "I didn't know anything about bikes back then, but I loved riding in the city and exploring. Being on the bike kept me healthy and gave me peace."
Yoon, who grew up in Seattle and Korea, had an errand to run, and I was happy to join him on a ride to an Asian-owned donut shop in the Rainier Beach neighborhood on Rainier Avenue South. We pedaled southward through Hillman City to King Donuts, where Yoon bought two-dozen donuts for his co-workers. Sweet guy.
Image
Sweet donuts, sweet hoodie!
After bungeeing the donut boxes to my bike rack, we pedaled back to Columbia City the way we came, passing the Othello Playground and Brighton Playfield, and sticking to Neighborhood Greenways and low-traffic Stay Healthy Streets.  
Image
The Bike Works offices, classrooms, and warehouse are located two blocks south of the bike shop. We masked up and went inside the warehouse space, which was filled with bikes and bike parts. The cavernous space is heaven for a bike nerd. Rows and rows of used and refurbished wheels hung from the ceiling. Shelves filled with bike parts and bins lined the walls, and bike frames were everywhere. 
Image
Allie Sarfaty, a Recycle and Reuse coordinator, is part of a team that salvages and saves thousands of bikes annually.  
Image
Bike Works also has two large classrooms where it holds youth and adult bike repair classes. Youth can earn their own bike by refurbishing and building bicycles for the Bikes for All program that donates hundreds of bicycles annually to individuals in need. Earn-a-Bike and Bikes for All are among the many great programs and services offered by Bike Works, including the pay-what-you-can Bike Mobile--a bike shop in the back of a van that can be seen at many community bicycling events.
Image
Cascade is excited to join the Major Taylor Birthday Ride and shine a spotlight on Bike Works, which "promotes the bicycle as a vehicle for change to empower youth and build resilient communities."
The birthday ride will include a loop around Seward Park, a spin up Lake Washington Boulevard, and will conclude with pizza and beverages. "It will be a fun time connecting new groups of people to support a great cause," Yoon says.
Image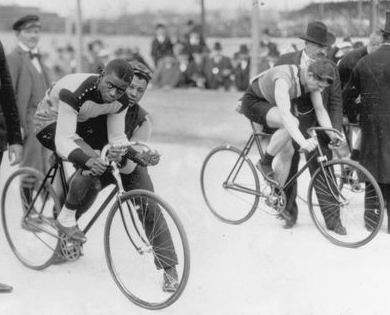 Happy birthday Marshall "Major" Taylor, Nov. 26, 1878.
More Info:
Sign up for the Major Taylor Birthday Ride.
Read about the historic life and legacy of Marshall "Major" Taylor, the "fastest man in the world," and namesake of Cascade's Major Taylor Project. He was born on Nov. 26, 1878.