Targeted investments and spot improvements can ensure biking is part of the solution to a closed West Seattle Bridge.
Image
Don Brubeck pauses to tell a joke while cycling beneath the West Seattle Bridge, the seven-lane concrete monstrosity that looms more than 100 feet above our heads, and which was suddenly closed to automobiles in March due to cracks that compromise its stability. "We recommend that people wear a bike helmet here," he deadpans, alluding to the fact we are in the fall zone should the bridge collapse. 
It's a ludicrous wisecrack but it highlights a crucial fact: while the 100,000 cars and buses that used the West Seattle Bridge daily before the Stay at Home order must now find alternate routes, people on bikes can still get through by riding on the bike trail that crosses the Spokane Street Bridge, which crosses the Duwamish River in the shadow of the West Seattle Bridge. 
Brubeck, a leading bicycle advocate in West Seattle, believes bikes can be a solution to alleviate the traffic nightmares the West Seattle Bridge closure will cause. Along with Cascade, he is urging Seattle city officials to take rapid steps to improve the bike networks connecting West Seattle to downtown, improving conditions for people who are already bicycling and encouraging more people to ride instead of drive.
"Let's get to work," says Brubeck, president of West Seattle Bike Connections, which along with the nonprofit Duwamish Valley Safe Streets, Seattle Neighborhood Greenways and Cascade Bicycle Club sent a letter to the Seattle Department of Transportation on April 28 outlining fast-track actions for the city.
Some improvements could be accomplished quickly and affordably, such as better signage and "wayfinding" to help people on bikes navigate the potentially confusing industrial corridors between downtown and West Seattle. Others require speeding up the construction of bike routes already in the works and part of the Seattle Bicycle Master Plan, including the route along East Marginal Way which is fully designed and partially funded, and a safe, designated bike connection through SODO. 
"Bikes can be a big part of the solution during the bridge closure," says Vicky Clarke, Cascade's policy director. "West Seattle residents rode bikes in large numbers during the Seattle Squeeze when the viaduct was closed in 2019, and they are ready to do so again. Let's build on previous success and make it easier for more people to get in the bike lane. With just a handful of improvements, and the rapid construction of projects already being planned, we can create a connected, intuitive and safe bike network that links West Seattle to downtown, Georgetown, South Seattle and other neighborhoods, and allows people to safely run essential errands and travel by bike during this double crisis of COVID and the bridge closure."
Image
A Bike Tour of the Gaps and Opportunities
To get an up-close look at the challenges and opportunities for increased bicycling in West Seattle, I pedaled across town and met with Brubeck for a quick, socially distant bike tour. Wiry, fit and with a dry wit, Brubeck founded West Seattle Bike Connections more than a decade ago after participating in Cascade's Advocacy Leadership Institute, and after spending many years bike commuting to downtown Seattle. 
We meet along the West Seattle Bridge Trail, a bike path that, confusingly, crosses the Spokane Street Bridge, which runs beneath the larger closed bridge. This so-called "low bridge" connects bike lanes along East Marginal Way on the downtown side of the Duwamish River with the Duwamish and Alki trails on the other side in West Seattle. The Spokane Street Bridge is reserved for buses, emergency vehicles and trucks accessing the port facilities on Harbor Island. People biking, however, can use the separated bike and multi-use trail on the Spokane Street Bridge, where Brubeck cracks his helmet joke.
Bike lanes and multi-use trails already exist on the east and west sides of the Spokane Street Bridge, but they are poorly marked, confusing, difficult for first-time users, and in some cases put people biking uncomfortably close to heavy traffic. Brubeck shows me two crosswalks on the West Seattle Bridge Trail that people biking must use to get across two roads, navigating between tractor trailer trucks that often block the way while heading to Harbor Island and the Seattle port terminals. We wait for a truck to stop for us before rushing across the crosswalk. Advocates want the city to improve safety at the crossings.
Image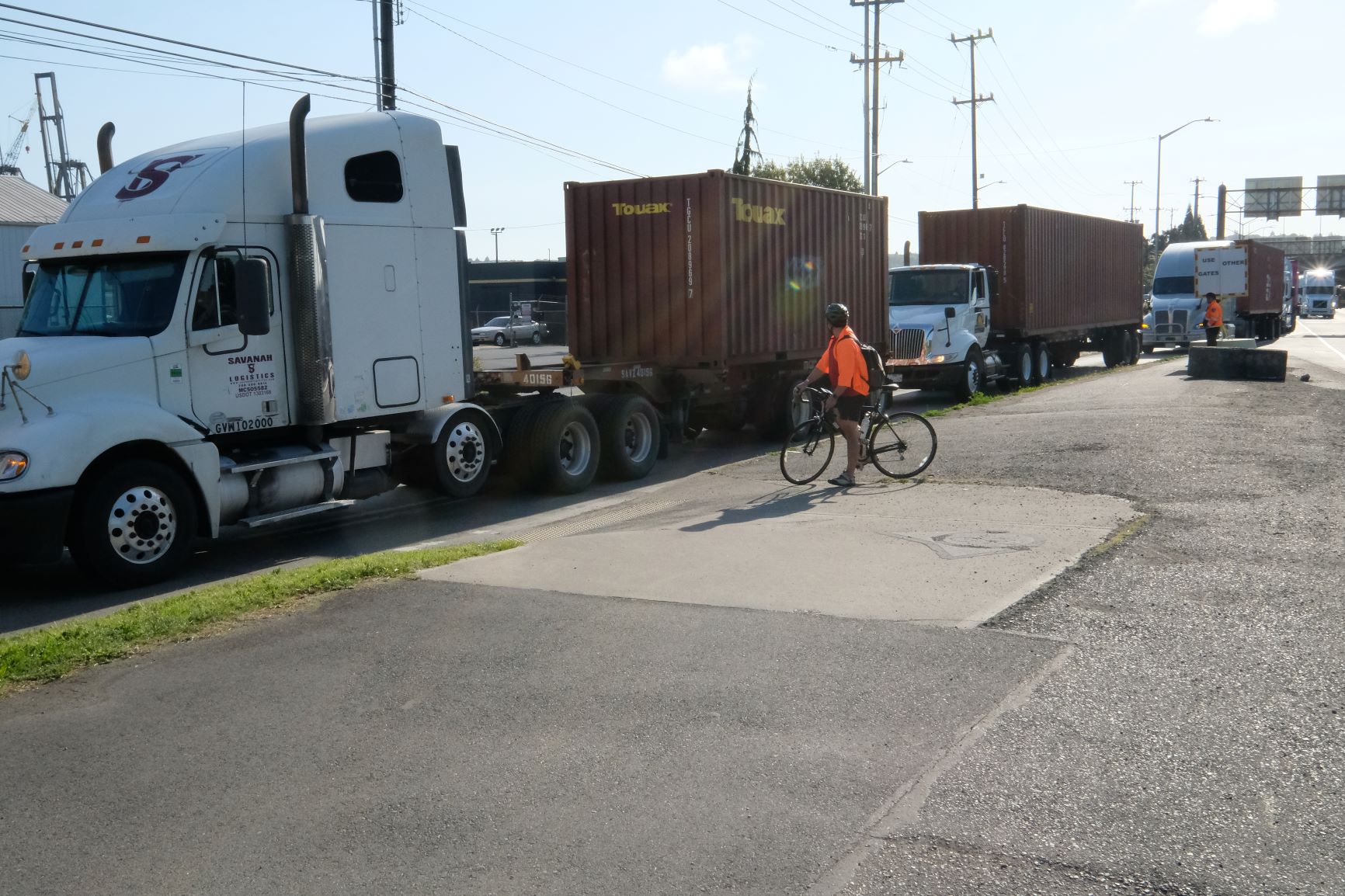 Image
We pedal to West Marginal Way, the main surface street that leads south to the Highland Park and South Park neighborhoods, where people driving who want to get downtown must now access two smaller bridges--the 1st Avenue South and South Park bridges. West Marginal is a 40 mph road, but cars and trucks regularly top 50 mph, Brubeck says. "It's four lanes of high-speed traffic, with train tracks and big trucks, and it's extremely difficult to cross," Brubeck says. West Seattle Bike Connections, Cascade, and others are urging the city to complete a protected biking and walking route along West Marginal Way to the Duwamish Trail with a safe crossing at the Duwamish Longhouse.
Our next stop is the Chelan five-way intersection where traffic from five streets converges in a confusing spaghetti of turn lanes, red lights and turn signals that people biking must navigate. Cascade and its partners would like to see the city install improved signage here. "It's really hard to tell where to go here," says Brubeck, who has chased down tourists on bikes who in their confusion made a wrong turn here and got off the bike trail and into heavy traffic.
Image
Brubeck and I proceed south to the Highland Park neighborhood, where he shows me a steep downhill with four lanes of high-speed traffic and no bike lanes on Highland Park Way SW, which leads into West Marginal Way SW. This is one of the major access routes for cars and bikes to reach the 1st Avenue South Bridge. There are no bike lanes, and the only safe place for people biking is on a sidewalk on one side of the street. "We would like this sidewalk widened to a multi-use trail," Brubeck says. 
We then navigate our way over two crosswalks at the busy intersection of West Marginal Way and Highland Park Way and proceed to the 1st Avenue South Bridge. The bridge and its access points are expected to become a gridlocked mess if traffic resumes to levels seen prior to the Stay at Home order.
Image
We pedal east on the bridge's sidewalk and head over the Duwamish toward Georgetown as trucks and cars speed past on the bridge's four lanes. We exit the bridge and enter an industrial area where 1st Avenue South, East Marginal Way and South Michigan Street converge amidst a cluster of on-ramps and off-ramps and concrete pillars. Brubeck describes this area on the Georgetown side of the bridge as "treacherous" for people biking. He, Cascade, and others are urging the city to create a designated bike route with signage that directs people through Georgetown. 
Image
Advancing important community priorities like the Georgetown to South Park Trail is even more important with the bridge closed. Additionally, Clarke says, the city must expedite planning for the route connecting Georgetown to Downtown via SODO, which will help connect neighborhoods throughout South Seattle and West Seattle who must use the 1st Ave South Bridge. 
Electric bikes can also be part of the solution. Cascade and West Seattle Bike Connections would like the city to ensure placement of more bikeshare e-bikes in West Seattle, and also help subsidize the purchase of e-bikes for residents with low incomes who must commute or carry out essential services. 
Improving safety for people on bikes is a major concern. The number of vehicles speeding has shot up since the West Seattle Bridge closure, according to some West Seattle residents. "Several times daily I witness people running the red light while people on bikes are waiting to cross," says Beverly Molenda, whose office window looks out upon West Marginal Way, in an email to Cascade. "I am dreading the day where I witness someone getting hit by a fast moving car at the crosswalk."
Prioritizing Bikes as Part of the Solution
For the long term, Cascade, West Seattle Bike Connections and partners are urging the city to spend up to one percent of the cost of repairing the bridge, which will remain shut until at least 2022, on bike and pedestrian safety. Linkages must be built to help people biking more easily reach the SODO Light Rail station and the King County Water Taxi that runs between downtown and West Seattle. Planned improvements along East Marginal Way must also speed up, and the planned multi-use trail between South Park and Georgetown must be completed, advocates say.
"For just a fraction of what it will cost to fix the bridge, the city can make some modest investments in making biking work for many more people, which will have long-term benefits not just for reducing traffic congestion but also improving air quality and increasing public health, equity and the livability of our neighborhoods," Clarke says.
For his part, Brubeck and other West Seattle Bike Connections volunteers are offering to meet people new to biking to show them how to ride to downtown Seattle. Within the next few weeks, he and volunteers plan to grab their shovels and dig up a section of sidewalk along Highland Park Way SW that is buried beneath six inches of dirt and grass. Their goal is to create a pathway that links to a neighborhood gravel trail. "We got permission from the city so we are going for it," Brubeck says. 
Image
--
West Seattle Bridge Closure Resources: 
To help Cascade and our allies advocate for safety improvements to key West Seattle routes, please share your story about how you bike now, or are considering starting biking more to and through West Seattle.

In the coming weeks, Cascade will create maps and routes to help people on bikes navigate between downtown and West Seattle. 

Individuals who want to learn more about needed improvements can read the letter from West Seattle Bike Connections, Duwamish Valley Safe Streets, Seattle Neighborhood Greenways and Cascade Bicycle Club to Seattle Department of Transportation Executive Director Sam Zimbabwe. 

West Seattle Bike Connections has created a map for people to find routes to the three bridges open to bikes that cross to Seattle--the Spokane Street Bridge, the 1st Avenue South Bridge and South Park Bridge.