Rookie's Perspective on Training for the STP: Week 10: Flying Wheels' 65-Mile Loop
I may have errored when I wrote last week that the prospect of 65 miles seemed "easy."
"Extreme" would be more like it.
I rode the 65-mile loop of the Flying Wheels with friends whom I had just met that morning. One was a newer rider and the other two were very experienced riders – the kind of riders who circled back down the Stillwater Hill to check on us and then rode back up again, the bike riding equivalent of hiking with an exuberant and kindly dog.
I met up with these friends of friends ("My helmet is kind of maroon; what color's yours?") at the Start line at Marymoor Park and we headed south along the E. Lake Sammamish Parkway, then east to Carnation, north to Duvall, back to Carnation, south to Fall City, and home to the Finish line via the E. Lake Sammamish Parkway again.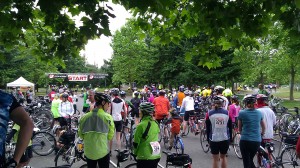 A friend of mine had cautioned me about the Stillwater Hill in Carnation: "It's a sharp right and a very steep climb," he said. "People often don't shift in time and I've seen a lot of crashes there."
Of course, his warning fell out of my head until I was suddenly looking up the hill and at a rider just in front of me, stopped. No "Slowing!" or "Stopping!" warning. I swerved to miss her and started climbing.
And climbing. Three miles of steep hill. I've learned that steep is fine, and long is fine, but the two attributes combined is pretty extreme. I looked at the riders in tennis shoes trudging along the side of the road and wondered what they were thinking about. This was no casual Saturday ride in the park.
Since we were "only" riding 65 miles I didn't have to manage any early-ride despair: that feeling of overwhelming discouragement at the beginning of rides when I think about how many hours and miles are ahead of me; those tired moments before I catch myself and focus on what I appreciate instead.
Since we were "only" going 65 miles, a distance I now know is entirely manageable, I felt ridiculously happy the whole ride – happy with the early summer weather; happy with my new friends; happy with the beautiful country around me; happy with moving my bike through the miles.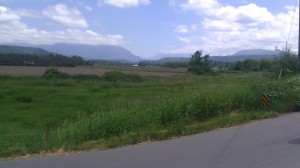 One of the experienced riders I was with gave me one of my favorite cycling tips to date: "Take off your shoes at rest breaks on long rides," he advised. "Particularly on hot days. Your feet bake, locked in those shoes all day." So obvious, but it hadn't occurred to me that you could do that.
Heaven, I thought, as I stretched out my toes.
I saw my CTS Green #4 ride leader David and some my cohort at the Duvall rest stop and felt like a wuss since they were doing the 100-mile loop. "How come you get to ride with David?" I asked one of my Green #4 friends. "How do I get connected like that?" I gave David some of my superpower hummus; maybe that will help my connections.
The Flying Wheels was the first time since the Chilly Hilly that I've ridden with non-CTS riders. I gained an even more effusive appreciation for the training, the culture of safety, and the ride leaders and sweeps and floats that accompany our CTS rides. Lots of people out there don't point out hazards or say "Passing on the left," or "Car back!"
I do, now.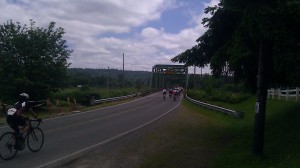 That said, not riding with my CTS Green #4 group felt a little bit like I was let out of school. I could speed up ("Let's go, Larry, for crying out loud!"), or stop and take pictures, or slowly grind up a hill without worrying about getting left behind or embarrassed — heaven forbid! — for being the last one to regroup.
I felt a little bit like a stalker, though, when I'd tuck in behind a stranger – a bike length away but still – and follow them for awhile. I told one guy in a snazzy biking outfit that I was "On your wheel!" – he promptly dropped me on a hill. On the last long stretch along the E. Lake Sammamish Parkway I identified a stronger woman rider who was riding a little faster than I wanted to into the wind. I followed that poor woman for miles.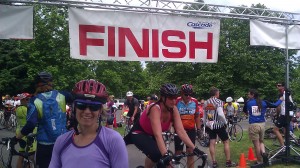 I've realized that I've changed my goal for the STP. No longer does the ride seem impossible: I can clearly see my way to 100 miles (a second day of it is still a bit fuzzy). My new goal is to play, to wring every moment of fun out of this ride with my big brothers — and 10,000 other people!
Coming up: 88 miles to Enumclaw on Saturday and then a 45-mile Cascade Free Daily Ride on Sunday – the first time I've done back-to-back rides.
Kathryn Saxer is currently enrolled in the Cascade Training Series, a 13-week training series designed to prepare Cascade members physically and mentally for  the Group Health STP or RSVP. She's a personal and professional coach in Seattle. When not learning how to bike long distances, she likes to run in the mountains, share adventures with her 7- and 9-year-old children, and cook terrible dinners for her beloved and long-suffering partner. She'll be reporting on her CTS journey weekly.